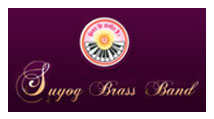 How our eMail Marketing helped Nagpur based Suyog Brass Band to perform live before California audience!
Suyog Brass Band has been into orchestra since 1978, performing live in marriages, religious functions & festivals at local level. One day… they woke up with a dream of doing something big! And the rest….like they say, is history….! As the thought to perform before a larger audience in a different league struck they approached us to help shape their vision and take it forward. They gave us a free hand to do all those things that would take them closer to their goal.
Background
The slate was clean and we started from scratch. We created an identity for them on paper by designing their very first logo; gradually as planned, we reached a stage & time when we were ready to launch them online. That's when we designed their website and gave them online presence.
To market them, our team decided to freeze on email campaign, which they thought would prove to be an effective strategy as it would get them direct and exclusive attention of those who could hire them. We did a market research and identified a list of companies that could be their potential customers.
Results
We sent out our first batch of customized emails to all these companies and the response indicated that the marketing was bang on target! We continued sending out emails, receiving responses…this went on for a few months.
Finally the hard work and focus reaped rewards and they lapped up their first contract to perform live before an audience in California! Their happiness knew no bounds once the deal was sealed.
By the time you read this may be they are on their way up… winning hearts, earning good reviews and bagging more contracts…. .
If you think you deserve more success than you presently enjoy; no matter how small or invisible your business or profession might be at this stage… we'll help you to make it big. When you hire our services, we'll work hard to find a way that will take you closer to your goals…
Please contactus for custom Web Application development and software development consulting with ASP.Net, ASP, PHP and API Integration software development resources and Outsource software consulting with US based management and consulting and India related development costs